Women soccer started in 1983 at Oirschot Vooruit. In an add in a local newspaper women and girls were asked to start playing soccer. The reactions were so overwhelming that 2 ladies teams and 1 girls team could be formed. The people responsible for the ladies and girls at the time were Harrie van Nunen en Flip Ophof.
They were the moving spirit behind the women soccer at Oirschot Vooruit. At that time women soccer was still in its early days but the men managed to teach the ladies the main principles of soccer.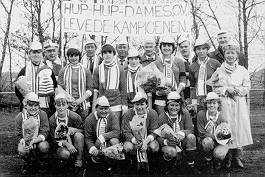 First times champion's title.......
Especially the start of women soccer was very promising at Oirschot Vooruit. They managed to become league champions three times in a row in the first four seasons which put them, by that time, in the first league. Up to this day there are still women playing soccer who founded soccer at Oirschot Vooruit.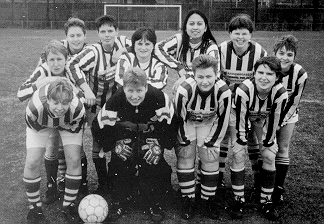 The players of the season '96/'97
Ever since the ladies, with different players in the team, have done there best to make the most of every season. Now guided by Arjan Abbink (coach) and Maikel Croes (trainer) the women have entered a new course which hopefully brings them the championship this year. The teamspirit is high and the team has the intention to reach for the highest this season. Even though the women couldn't reach the championship for many different reasons during the last few years they have always played in the top of the league. And maybe this year, in the new league they will succeed, we'll see.......
---
---